There are many champion horse breeds to consider when it comes to racing. One should always do proper research about the different kinds of horses available and figure out what they want. This research, when compared with the desired characteristics, will yield the right results. A few champion breeds are discussed below, to help aid in the quest of finding the right racing horse.
American Quarter Horse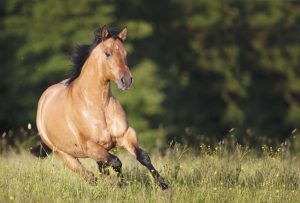 These type of horses are trendy in America. They are undoubtedly loved by all since they can participate in a lot of equestrian sports, such as rodeos, and show jumping as well as horse racing. They are the perfect animal to have on a farm or ranch as they are considered to be a family horse. Their famous name came from the fact that they were used in quarter-mile races. They are very fast over short distances, and so that is why they are fit for these types of races.
Standardbreds
These horses were first used for harness racing in the 18th century. Quite a few horses were bred together for this final breed to be present namely, Thoroughbreds, Canadian Pacers, Norfolk Trotters and Morgans. This breed is well known for its masculinity and longer bodies. When it comes to training, they are considered to be fairly easy. This probably has to do with the fact that they get along with people very well.
Standardbreds are mostly grouped into two categories, namely trotters and pacers. Besides harness racing, they are well known for showjumping, trail riding, and hunt seat riding, as well as herding cattle.
From these two horses mentioned above, it is very evident that each and every breed has its own characteristics, which make it a champion horse. It is, therefore, up to the owner to decide what exactly they seek in a horse, before purchasing one.