Stunned with the "huge" prize of the largest horse racing in the world
This week, Saudi Arabia will host the largest horse racing in the world with a cash prize of up to $ 20 million.
Large horse race
A horse race called The Saudi Cup is ready to start in Riyadh on February 29, organized by The Jockey Club. The event takes place at King Abdulaziz racetrack with a track of about 1.8 km, expected to attract at least 10,000 spectators.
The winner will receive a cash prize of 10 million USD, while the second place is 3.5 million USD. Even people in 10th place are awarded.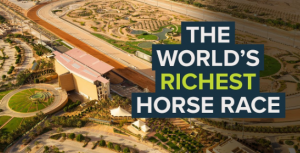 The Saudi Cup also includes 7 other races on the ground and the pitch with a prize value of 9.2 million USD. The purpose of Saudi Arabia to organize this horse racing is to encourage people to follow the sports in the country as well as open the horse industry and connect with the international community to make a mark on the track. Global.
Two companies, InstoneAir and Luck Greayer (LG) Bloodstock Shipping, have teamed up to support the world's largest horse racing. Specifically, InstoneAir hired Kalitta Air Boeing 747 aircraft to bring contestants from Los Angeles and Fort Lauderdale (USA) to Saudi Arabia.
Racing horses are shipped to Saudi Arabia
Excellent race horses from London Stansted, Shannon, Liege, Dubai and Hong Kong were also transported to the capital, Riyadh, to be ready for the race on February 29.
Following The Saudi Cup in Saudi Arabia, InstoneAir will bring some horses to the Dubai World Cup at the end of March.
"We are extremely proud to partner with LG Bloodstock, Saudia Cargo and Arabian Horse Flights, our partners in Saudi Arabia, to ensure the success of the first The Saudi Cup", Managing Director Instone operator Jeremy Instone told Air Cargo News.
In recent years, Saudi Arabia has invested heavily in sporting events, thereby promoting soft power to help show a more moderate image of the country.